Recipes
Love Your Heart: Pistachio Mint Pesto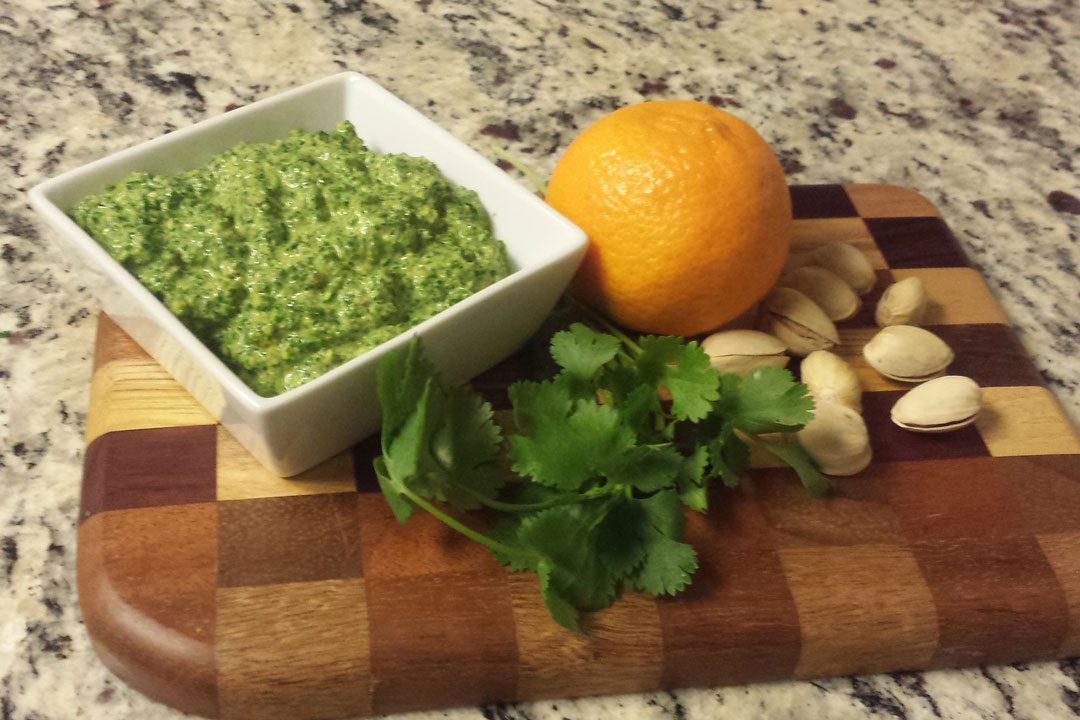 February is all about the heart - not only is it about celebrating your loved one on Valentine's Day but it's also a month that reminds us to keep our hearts healthy. What better way to celebrate than through food.
This time of year, people share recipes for romantic menus. We're celebrating with a twist on a traditional pesto - to make it extra heart healthy, we're swapping pine nuts for pistachios and brightening it up with some fresh mint and parsley instead of basil.
Pistachios are chock-full of heart healthy nutrients including mono- and polyunsaturated fats, potassium and fiber making them a superstar ingredient for heart health. In addition to the pistachios and heart healthy extra virgin olive oil, the fresh herbs and orange zest in the pesto contain flavonoids that may even help with circulation which would also benefit your heart.
This pesto is vegan and doesn't include the cheese that would be in a traditional pesto recipe. It can of course be used in place of a more traditional pesto and served with pasta. For an extra nutritional boost, we like it tossed with some roasted beets, toasted pistachios, fresh orange segments, crumbled goat cheese, cracked black pepper and a dash of champagne vinegar for a delicious side dish or salad.
Pistachio Mint Pesto
Makes about 1 cup of pesto
2 ½ cup (packed) fresh mint leaves
1 ½ cup (packed) fresh parsley leaves
6 Tbsp shelled pistachios
6 Tbsp pistachio oil (or extra virgin olive oil)
½ tsp sea salt
2 Tbsp cold water
Pinch of orange zest
Directions:
1. Blanch the herbs: Add about 6 cups of water to a small pot and bring to a rolling boil. Meanwhile, prepare a separate bowl with ice water (enough to be able to fully immerse the herbs after they are blanched). Once the water has come to a boil, add the mint and parsley to the boiling water and blanch for 20-30 seconds. Then, using a mesh strainer or slotted spoon, transfer the blanched herbs quickly to the ice bath. Let sit for approximately 1 minute. Drain cooled herbs on paper towels and gently squeeze out excess water.
2. Make the pesto: Add the blanched herbs, pistachios, oil and salt to a blender or food processor and blend until mixture is a coarse puree. Adjust the consistency by adding the water while blending. Transfer to bowl and add orange zest to taste.
Nutritional information per 2 tbsp serving:
Calories: 70kcal
Fat: 7g
Saturated Fat: 1g
Fiber: 1g
Protein: 1g
Carbohydrates: 3g
Sodium: 140mg
Potassium: 140mg
---
April 20, 2018 by Allison Aaron, Sr. Culinary Nutritionist
Do you really know what's in your protein powder? Allison discusses a recent report that examined contamination in this dietary supplement and discusses whether protein powders are a necessary addition to our diets.
---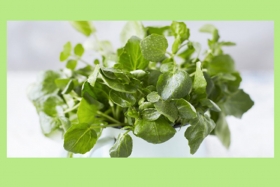 March 19, 2018 by Kat Villarino, Dietetic Intern
Dietetic Intern Kat Villarino covers why watercress is such a nutrient powerhouse and shares how you can incorporate more of it into your diet. Check out her infographic!
---