Recipes
Healthy Pork Fried Rice Recipe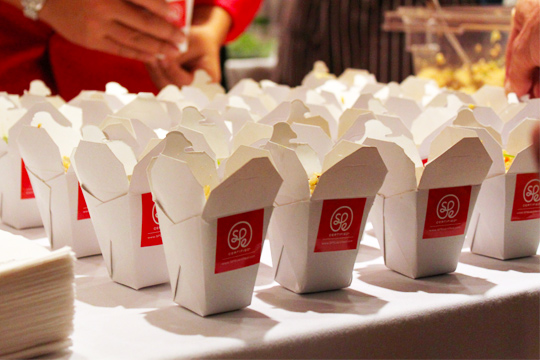 Senior Culinary Nutritionist Natalia Hancock presents a healthy pork fried rice dish, containing 60% less fat than a typical recipe.
Traditionally high in fat, sodium and refined carbohydrates, we made this typically unhealthy dish healthier and more nutritious by:
Increasing the amount of vegetables (the dish now contains over 2 servings of vegetables)
Using brown rice, a whole grain, instead of white rice
Reducing the amount of oil used to sauté the rice
Selecting a lean cut of pork, the pork tenderloin
Reducing sodium by adding the tamari and incorporating other nutrient-dense seasonings such as garlic, ginger and cilantro
Our "recipe revamp" resulted in the dish containing 44% fewer calories, 67% less saturated fat and 67% less sodium. Vitamin C content was increased by 989% and selenium by 27%.
Healthy Pork Fried Rice Recipe
Makes 8 servings

Marinade:
1 cup dry white wine
⅓ cup Dijon mustard
¼ cup garlic, minced
1 tsp black pepper
⅓ cup low sodium soy sauce
1 ¼ lbs pork loin
Pork Fried Rice:
2 cups brown rice, long grain, uncooked
4 cups chicken stock, low sodium
1 cup carrot, grated
1 ½ cups Napa cabbage, sliced thinly
2 tbsp ginger root, minced
2 tbsp garlic, minced
⅛ tsp sea salt
1 ½ cups peas, frozen or fresh
¼ cup scallions
2 tbsp low sodium soy sauce
2 tbsp rice wine vinegar
2 tbsp canola oil
1 tsp sesame oil
¼ tsp black pepper
2 tbsp cilantro, chopped
Directions

Combine all marinade ingredients and let sit for at least 1 hour. Cook the rice using stock (for best results, allow the rice to cool on a sheet pan prior to sautéing).
Pre-heat oven to 350˚F. Remove pork from marinade and place in a roasting pan. Roast for 35 minutes, or until a thermometer inserted in the center registers 145°F. Let pork sit 5 to 10 minutes prior to chopping (½" cubes).
Heat canola oil in a large sauté pan over high heat. Sauté ginger, shallots and garlic for 1 minute. Add carrots and cabbage and continue to sauté (2-3 min).
Add the cooked rice, stirring (2-3 min). Season the rice with soy sauce, rice vinegar and sesame oil, and combine. Lastly, add in the peas and chopped pork, and let cook for 1 minute. Garnish with scallions and cilantro.
Nutritional information per serving:

Calories: 426kcal
Carbohydrates: 51g
Fiber: 5g
Fat: 12g
Saturated Fat: 2g
Sodium: 555mg
Protein: 26g
Vitamin A: 100%DV
Thiamin: 63%DV
Selenium: 48%DV
---
April 20, 2018 by Allison Aaron, Sr. Culinary Nutritionist
Do you really know what's in your protein powder? Allison discusses a recent report that examined contamination in this dietary supplement and discusses whether protein powders are a necessary addition to our diets.
---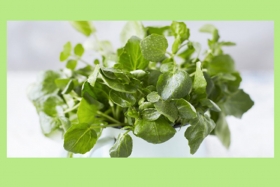 March 19, 2018 by Kat Villarino, Dietetic Intern
Dietetic Intern Kat Villarino covers why watercress is such a nutrient powerhouse and shares how you can incorporate more of it into your diet. Check out her infographic!
---