Recipes
Healthy Buffalo Chicken Wings with Blue Cheese Dressing Recipe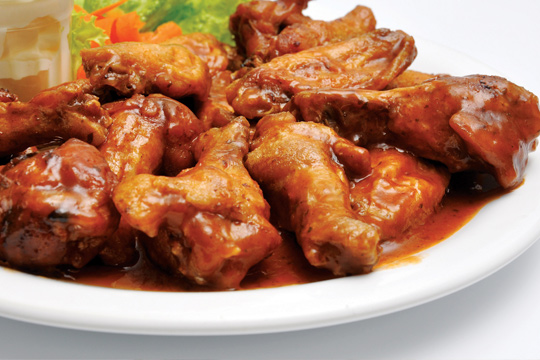 This healthy alternative to deep-fried chicken wings is just as tasty and contains only 2g of saturated fat per serving.
Challenge your guests to taste the difference with this healthy version of a now 50-year old American staple.
Makes 4 servings

Chunky Blue Cheese Dressing:
1 cup non-fat Greek yogurt
2 tbsp mayonnaise
¼ cup crumbled blue cheese
2 tbsp onion, minced
2 tbsp white vinegar
¼ tsp sea salt
¼ tsp black pepper
2 cups celery sticks
2 cups carrot sticks
Buffalo Wings:
2½ lbs chicken wings
Cooking spray
¼ tsp salt
¼ tsp black pepper
¾ cup buffalo sauce (Texas Pete)
Directions

Make blue cheese dressing ahead of time: combine all ingredients (except carrots and celery), mix well and let sit for at least 30 minutes so that flavors blend.
Pre-heat oven to 375°F.
Place steam basked in large pot with 1 inch of water. Coat steam basket with cooking spray so wings do not stick. Place wings in 1 layer on steam basket.
Cover pot and steam wings 12-15 minutes on medium heat.
Once wings have finished steaming, place a wire cooking rack on top of a baking sheet and coat with cooking spray. Place wings on top of rack, season with salt and pepper, and roast for 12-15 minutes or until crispy. Fat should drip to bottom of cooking sheet.
Toss wings with buffalo sauce in a large bowl and serve immediately with carrot and celery sticks and blue cheese dressing.

Nutritional information per serving:

Calories: 191kcal
Fat: 8g
Saturated Fat: 2g
Protein: 22g
Carbohydrates: 6g
Fiber: 2g
Sodium: 445mg
Vitamin A: 100%DV
Niacin: 28%DV
Selenium: 24%DV
---
April 20, 2018 by Allison Aaron, Sr. Culinary Nutritionist
Do you really know what's in your protein powder? Allison discusses a recent report that examined contamination in this dietary supplement and discusses whether protein powders are a necessary addition to our diets.
---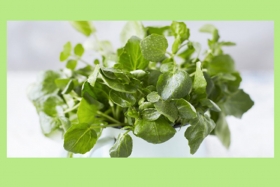 March 19, 2018 by Kat Villarino, Dietetic Intern
Dietetic Intern Kat Villarino covers why watercress is such a nutrient powerhouse and shares how you can incorporate more of it into your diet. Check out her infographic!
---