Events
Does Corporate Sponsorship Have a Place at the FNCE?

Culinary Nutritionist Andrea Canada reacts to the plethora of corporate branding for heavily-processed consumer goods at the 2012 Food & Nutrition Conference & Expo in Philadelphia, PA.
Every year, thousands of dietitians, nutrition students and other health professionals descend upon a city for the Academy of Nutrition and Dietetics' (AND) annual Food and Nutrition Conference & Expo (FNCE). The 4-day conference includes relevant lectures, cooking demonstrations, presentations of research, and a bustling expo of both established and new nutrition- and food-related companies.
During my dietetic internship I had the opportunity to attend my first FNCE and as an idealistic, nutrition intern, I was surprised to see the extent of large corporate sponsorships at the event. Huge banners at the entrance to the conference announce the sponsorship of a number of large beverage, pharmaceutical and other large food manufacturers; attendees walk around with conference bags to collect loot from the expo displaying their logos, and the companies have quite elaborate displays. It was curious to me as I walked through the expo that along with samples of whole foods, I was bombarded with many foods and beverages that were heavily-processed or fortified in bizarre ways.
This year, SPE Certified was able to send our five dietitians to the conference in Philadelphia. Again, this year's major sponsors include sugar-sweetened beverage manufacturers (among other large food companies). I can appreciate that for most of us, sugar-sweetened beverages or processed foods in limited quantities can be part of a balanced diet. And I agree there is a place for these food companies at the FNCE since they are currently a significant part of the American diet, and dietitians need to stay in touch with what Americans are eating.
However, given the obesity epidemic in this country and the overwhelming availability of heavily-processed foods, I am frustrated that their presence is disproportionately large compared to companies representing fruits, vegetables, whole grains and other whole foods at the event. I am happy to see a growing presence in the expo of whole or minimally-processed foods and would like to see this trend continue. And I understand that sponsorship is required for large conferences such as this. However, are there not other creative ways in which these "behemoth" sponsors could support the conference without grabbing the spotlight from companies promoting less processed and naturally nutrient-dense foods?
---
April 20, 2018 by Allison Aaron, Sr. Culinary Nutritionist
Do you really know what's in your protein powder? Allison discusses a recent report that examined contamination in this dietary supplement and discusses whether protein powders are a necessary addition to our diets.
---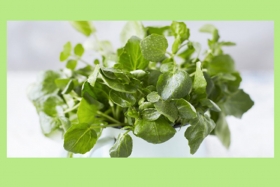 March 19, 2018 by Kat Villarino, Dietetic Intern
Dietetic Intern Kat Villarino covers why watercress is such a nutrient powerhouse and shares how you can incorporate more of it into your diet. Check out her infographic!
---