Recipes
VIDEO: Cranberry Orange Relish Recipe
This healthy alternative to cranberry sauce is just as tasty and contains only a quarter of the calories!
Cranberry Orange Relish Recipe
20 servings
12oz cranberries, fresh
1 navel orange, quartered, seeds removed, with skin
¼ cup sugar
Directions

Wash orange and cranberries, then quarter the orange and remove seeds.
Pulse in a food processor with the sugar to desired consistency.
Refrigerate up to 3 days. Makes 20, 1oz/2 tbsp servings
Nutritional information per 2 tbsp serving:

Calories: 23
Carbs: 6g
Fiber: 1g
Vitamin C 13%
Compared to Traditional Cranberry Sauce (canned, 2 tbsp):
Calories: 95
Carbs: 24g
Fiber: 1g
Vitamin C: 2%
---
April 20, 2018 by Allison Aaron, Sr. Culinary Nutritionist
Do you really know what's in your protein powder? Allison discusses a recent report that examined contamination in this dietary supplement and discusses whether protein powders are a necessary addition to our diets.
---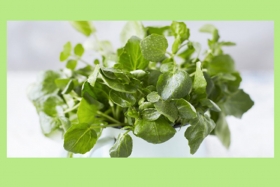 March 19, 2018 by Kat Villarino, Dietetic Intern
Dietetic Intern Kat Villarino covers why watercress is such a nutrient powerhouse and shares how you can incorporate more of it into your diet. Check out her infographic!
---