Recipes
Cinco de Mayo Taco Salad Recipe
A delicious, healthy taco salad recipe made with avocado, turkey and pico de gallo.
This is one of my all-time favorite salad recipes, perfect for National Taco Day or Cinqo de Mayo!
Makes 4 servings

Pico de gallo:
4 plum tomatoes, chopped
½ small onion, chopped
1 jalapeño pepper, seeded and chopped
1 avocado, chopped
¼ cup cilantro, chopped
3 tbsp lime juice
1 tsp salt
½ tsp sugar
Turkey:
½ piece of stale bread
2 tbsp milk
2 tsp olive oil
2 cloves garlic, minced
½ small onion, minced
1 lb lean ground turkey (can be substituted for beef or chicken)
2 tsp ground cumin
¼ tsp chili powder
¼ tsp red pepper flakes
1 tsp smoked paprika
1 tsp salt
Salad:
8 cups romaine lettuce (1 large head), chopped
2 cups black beans, cooked
½ cup non-fat Greek yogurt
½ cup reduced-fat shredded cheese
Directions

To prepare the pico de gallo:
Combine tomatoes, onion, jalapeño, avocado, cilantro, lime juice, salt and sugar in a medium bowl and set aside.

To prepare the turkey:
Soak the bread in milk and set aside. In a large skillet over medium-high heat, add the olive oil.
Cook the garlic and onion in the skillet for 1 to 2 minutes, stirring frequently.
Add the ground turkey and brown, being careful not to break up the turkey too much. Add the cumin, chili powder, red pepper flakes, smoked paprika and salt and mix well.
Squeeze the milk from the bread into the turkey and stir. The milk will keep leaner ground meats from drying out. Discard the bread.

To serve:
Arrange 2 cups of lettuce in a bowl and top with ¼ of the turkey, ½ cup black beans, ¼ of the pico de gallo and 2 tablespoons each of the yogurt and cheese.
Nutritional information per serving:

Calories: 473
Protein: 40g
Carbohydrates: 37g
Fat: 20g
Saturated Fat: 5g
Sodium: 1415mg
---
April 20, 2018 by Allison Aaron, Sr. Culinary Nutritionist
Do you really know what's in your protein powder? Allison discusses a recent report that examined contamination in this dietary supplement and discusses whether protein powders are a necessary addition to our diets.
---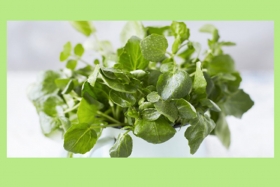 March 19, 2018 by Kat Villarino, Dietetic Intern
Dietetic Intern Kat Villarino covers why watercress is such a nutrient powerhouse and shares how you can incorporate more of it into your diet. Check out her infographic!
---