Recipes
Almond and Cherry Chocolate Bark Recipe
A simple yet delicious recipe that makes a great dessert any night of the week. Make a batch and enjoy for days!
Makes 24 servings

½ lb bittersweet chocolate
½ lb semisweet chocolate
¼ cup chopped unsweetened dried cherries
⅔ cup roasted salted almonds, coarsely chopped
Zest of 1 naval orange
⅛ tsp coarse sea salt
Directions

Line the baking sheet with parchment paper and set it aside.
Using a vegetable peeler, remove zest from half the orange. Using a paring knife, cut zest into very thin strips (about an inch long) and set aside.
Place chocolate in a heatproof bowl set over a pan of simmering water. Stir until chocolate has melted and is completely smooth.
Remove the chocolate from the heat and mix in ⅔ of the chopped almonds, dried cherries and orange zest.
Immediately pour onto prepared baking sheet using a flexible rubber spatula and spread into an 8x10 inch rectangle about ¼ inch thick.
Sprinkle remaining nuts, zest and coarse salt.
Refrigerate until firm, roughly 30 minutes. Once the chocolate has cooled completely, break into pieces and store in an airtight container. Keep refrigerated.
Nutritional information per serving:

Calories: 130
Protein: 9g
Carbohydrates: 13g
Fat: 9g
Saturated Fat: 4g
Fiber: 2g
Sodium: 35mg
Potassium: 50mg
---
April 20, 2018 by Allison Aaron, Sr. Culinary Nutritionist
Do you really know what's in your protein powder? Allison discusses a recent report that examined contamination in this dietary supplement and discusses whether protein powders are a necessary addition to our diets.
---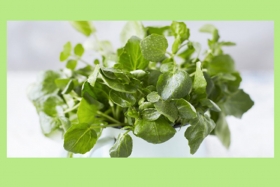 March 19, 2018 by Kat Villarino, Dietetic Intern
Dietetic Intern Kat Villarino covers why watercress is such a nutrient powerhouse and shares how you can incorporate more of it into your diet. Check out her infographic!
---