Nutrition 101
5 Tips for Following a Healthy Diet Over the Holidays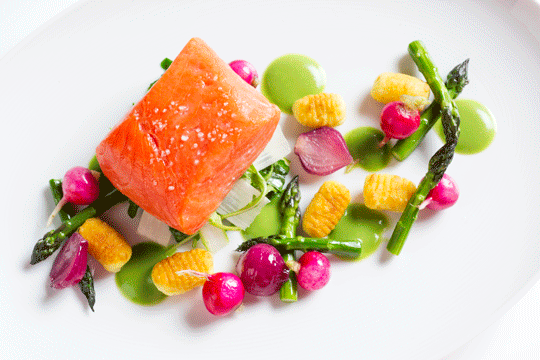 Guest blogger Chloe Allègre, Culinary Nutritionist at Rouge Tomate in Brussels, gives her advice on how to maintain a healthy diet during the holiday season.
Now that we're in the midst of holidays, parties and feasts, you may be wondering how you can possibly enjoy all the culinary delights of the season while following a healthy diet. I'll share with you 5 tips on how to indulge while making nutritious meal choices:
1. Opt for seafood

Fish and seafood can provide you with plenty of micronutrients like Selenium and Zinc, as well as antioxidants. You'll also get omega-3s from fatty fishes like salmon or mackerel. You may want to season them with Asian ingredients like yuzu, soy sauce, dashi and seaweed to add an exotic flavor and avoid more traditional heavy sauces.
2. Choose vegetables or fruits as a side dish and base for your sauces

Vegetables with powerful flavors like wild mushrooms, celeriac or parsnip season your recipes and lower calories at the same time. Use a tomato coulis, vegetable juice or purée as a sauce base in order to limit the amount of butter or cream that you would use in traditional sauces.
3. Plan ahead

Visualize the portions that you will serve or eat, especially for buffets and cocktail parties where you can endlessly snack or nibble without feeling full. For example, take a small plate or a napkin and help yourself with the amount you judge to be reasonable, and make it last for the evening. The same advice applies to beverages that can be very high in calories and do not make you feel satiated. This way you will wake up light and fresh the next morning!
4. Get inspired

The French Provençal tradition of 13 desserts is a great place to start! Set the table with grapes, pears, oranges, apples, prunes, dates, nuts and almonds – vitamins and antioxidants guaranteed! You can also use them as ingredients for your desserts for a fresh and light touch.
5. Finally, enjoy your food!

Ask for the best quality ingredients and then have fun experiencing all the textures and flavors by making each bite last. You will feel more satisfied and satiated this way and it will also stimulate the production of endorphins, pleasure and wellness hormones, which will help you recover from the fatigue of those long festive days and nights!
Do you have any tips for staying healthy during the holidays? Let us know in the comments below!
---
April 20, 2018 by Allison Aaron, Sr. Culinary Nutritionist
Do you really know what's in your protein powder? Allison discusses a recent report that examined contamination in this dietary supplement and discusses whether protein powders are a necessary addition to our diets.
---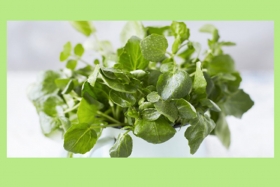 March 19, 2018 by Kat Villarino, Dietetic Intern
Dietetic Intern Kat Villarino covers why watercress is such a nutrient powerhouse and shares how you can incorporate more of it into your diet. Check out her infographic!
---