Nutrition 101
3 Quick and Easy Apple Recipes for Fall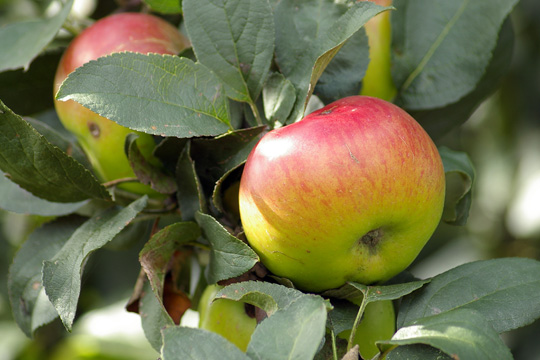 Culinary Nutritionist Natalia Hancock divulges three of her favorite apple recipes; Apple-Pear Sauce, Wilted Spinach Salad with Roasted Apples and Apple Cider Oatmeal.
October has so much to offer: foliage, great weather to enjoy the outdoors and amazing produce. Apple picking has to be one of my favorite activities in which to experience the splendor of autumn. There are so many amazing lesser known varieties of apples available, and they taste that much better when picked off the tree. Now that you have a bushel of these gems, you might wonder what to do with them.

The old saying "An apple a day keeps the doctor away" couldn't be more true. Apples are loaded with all sorts of beneficial nutrients like flavonoid quercetin and phenolic compounds, and rank number 2 among fruits highest in antioxidants. When preparing them it is very important to keep the peel on, as the peel has the highest concentration of nutrients and, of course, fiber!
Here are 3 quick and tasty recipes for your apples picked fresh from the orchard or your local farmer's market:
Apple-Pear Sauce
Makes 6 servings
1lb apples, washed, quartered, cored
1lb pears, washed, quartered, cored
Tap water
Optional ½ tsp cinnamon, nutmeg, ginger, cloves
Directions

Fill a large pot with ½ inch of tap water and bring to a boil, then reduce heat to a simmer on medium-low heat.
Add quartered apples and pears.
Cover and simmer 10-15 minutes or until fruit is tender.
Season the apples and pears with spice(s) if desired.
Mash for chunky texture or puree for a smooth texture.
Nutritional information per ¾-cup serving:

Calories: 80kcal
Fat: 0g
Saturated Fat: 0g
Protein: <1g
Carbohydrate: 22g
Fiber: 4g
Sodium: 0mg
Potassium: 170mg
Wilted Spinach Salad with Roasted Apples
Makes 4 servings
2 apples (McCoun or Honey Crisp), cored and sliced ½"
1 tsp cider vinegar
½ tsp olive oil
2 shallots sliced
2 tbsp olive oil
¼ cup balsamic vinegar
1 tsp Dijon mustard
Pinch of salt and sugar
4 cups baby spinach
¼ cup dried cranberries
¼ walnuts, toasted and chopped
Salt and pepper
Directions

Preheat oven to 350 degrees.
Core and slice the apples.
Heat ½ tsp olive oil in an oven-safe skillet and sauté the apples over medium heat, add the cider vinegar and a pinch of salt. Roast in the oven for 5 minutes.
Slice the shallots and sauté in the skillet with 2 tbsp olive oil. Once the onions start to caramelize add the balsamic vinegar, mustard, salt and sugar.
Whisk together the vinaigrette. When it comes to a boil, reduce to a low heat.
Divide spinach among plates and top with hot apples and vinaigrette to wilt the spinach.
Garnish with dried cranberries and toasted walnuts and season with salt and pepper.
Nutritional information per 6oz serving:

Calories: 165Kcal
Fat: 6g
Saturated Fat: 0.5g
Carbs: 26g
Fiber: 4g
Protein: 3g
Sodium: 135mg
Potassium: 350mg
Apple Cider Oatmeal
Makes 4 servings
1 ½ cup apple cider
1 ½ cup water
2 apples chopped
1 cup old fashioned oats
2 tbsp chia seeds
2 tsp cinnamon
2 tbsp raisins
¼ cup walnuts chopped
½ cup non-fat Greek yogurt
Directions

Bring the apple cider and water to the boil in a medium pot over medium-high heat.
Add the apples, oats, chia seeds and cinnamon then reduce to a low heat.
Cover the pot and cook 5-7 minutes, stirring from time to time to keep the oatmeal from sticking and burning on the bottom.
Once the oatmeal is cooked and tender add the raisins, walnuts and yogurt.
Mix well then cover the pot for 5 minutes so that the raisins plump.
Nutritional information per 12oz serving:

Calories: 390kcal
Fat:10.9g
Saturated Fat: 1.1g
Protein: 17.2g
Carbs: 59.1g
Fiber: 11.09g
Sodium: 51.3mg
Potassium: 540mg
Like these recipes? Check out our other healthy, nutritious and delicious recipes!
---
April 20, 2018 by Allison Aaron, Sr. Culinary Nutritionist
Do you really know what's in your protein powder? Allison discusses a recent report that examined contamination in this dietary supplement and discusses whether protein powders are a necessary addition to our diets.
---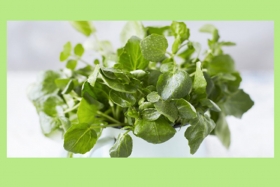 March 19, 2018 by Kat Villarino, Dietetic Intern
Dietetic Intern Kat Villarino covers why watercress is such a nutrient powerhouse and shares how you can incorporate more of it into your diet. Check out her infographic!
---