Recipes
Tomato Watermelon Gazpacho Recipe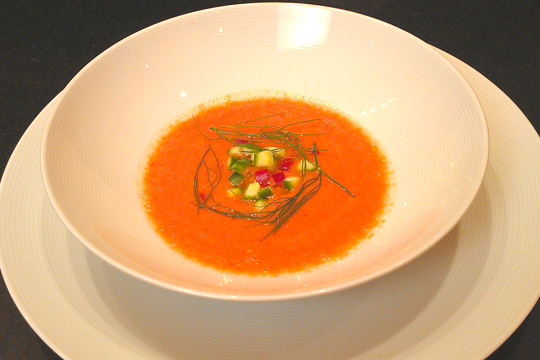 A refreshing soup which uses the natural sweetness of watermelon in place of added sugar.
Serves 8

Soup
2-3 tbsp water
¼ slice whole wheat bread, toasted
2 cloves garlic, chopped finely
1 ¼ tsp salt
1 tsp cumin seed
5 cups ripe tomatoes, chopped
2 ½ tbsp Pedro Ximenez vinegar
2 tbsp olive oil
½ tsp red pepper flakes
6 cups watermelon, diced
Garnish
¼ cup watermelon, diced
⅓ cup fennel, diced
¼ cup ripe tomato, diced
1 cup green pepper, diced
⅓ cup cucumber, diced
Toasted pumpernickel croutons
Fennel fronds
Directions

Soak the toasted bread in the water until water has been absorbed.
Squeeze the water out of the bread and make a paste with the garlic and ¼ teaspoon of the salt and ½ teaspoon of the cumin.
Puree the tomatoes. While blending, add the garlic paste, vinegar, olive oil, and red pepper flake.
Once well blended, pour out half the tomato mixture and set aside.
Add half the watermelon and half the remaining salt and cumin and blend 30 seconds.
Repeat the process with the reserved tomato mixture, watermelon, salt and cumin. Combine both mixtures together in a bowl and place in refrigerator until chilled.
Serve chilled garnished with the mix of diced watermelon, fennel, tomato, pepper, cucumber, pumpernickel croutons and fennel fronds.
Nutritional information per 1 cup serving:

Calories: 90kcal
Fat: 4g
Saturated fat: 0.5g
Protein: 2g
Carbs: 14g
Fiber: 2g
Sodium: 350mg
Potassium: 420mg
---
April 20, 2018 by Allison Aaron, Sr. Culinary Nutritionist
Do you really know what's in your protein powder? Allison discusses a recent report that examined contamination in this dietary supplement and discusses whether protein powders are a necessary addition to our diets.
---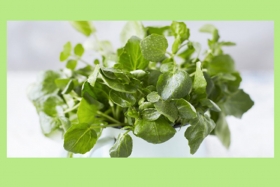 March 19, 2018 by Kat Villarino, Dietetic Intern
Dietetic Intern Kat Villarino covers why watercress is such a nutrient powerhouse and shares how you can incorporate more of it into your diet. Check out her infographic!
---