Recipes
Spicy Lobster with Pappardelle Recipe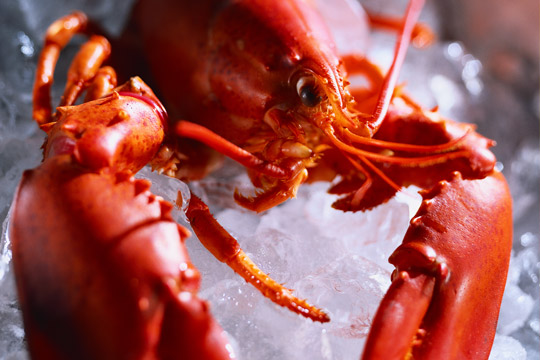 A serving of this healthy lobster pappardelle contains just 320 calories and 1g of saturated fat!
Serves 4

12 oz lobster meat, chopped (from 3 steamed lobsters, 1-1¼ lbs each)
1¾ lbs plum tomatoes cored, shocked and peeled or 1 - 28 oz can of whole, peeled plum tomatoes, no sodium, drained
Lobster coral (optional)
3 cloves garlic, peeled
1 jalapeño
½ tsp salt
½ tsp sugar
2 tbsp olive oil
6 oz dried pappardelle, whole wheat
½ cup fresh parsley, chopped
Pinch salt
Pinch red pepper flakes
Directions

Purée drained and peeled tomatoes (canned or fresh) with the coral from the lobster (optional), 1 clove of garlic, 1 inch of jalapeño, salt, sugar and 1 tbsp olive oil.
Pour into saucepan and heat on medium-low heat, bring to boil then reduce to a simmer for 20 minutes, stirring occasionally.
Cook pasta in salted water until it is al dente, just undercooked.
Reserve 1 cup of the pasta water and set aside.
In a large skillet heat 1 tbsp of olive oil, sauté 2 cloves of thinly sliced garlic for 1 minute on medium heat, add the lobster meat and continue sautéing for another minute or 2.
Add well drained pasta and sauté for another 2 minutes.
Add sauce and continue to cook.
If more liquid is necessary add some of the pasta water, little by little.
After 2 minutes, once pasta and sauce is heated through, add chopped parsley. Taste and season with salt and red pepper flakes.
Nutritional information per serving:

Calories: 320
Fat: 9g
Saturated Fat: 1g
Carbs: 25g
Sodium: 570mg
Fiber: 7g
Protein 25g
Potassium: 700mg
Vitamin A: 45%DV
Vitamin C: 60%DV
---
April 20, 2018 by Allison Aaron, Sr. Culinary Nutritionist
Do you really know what's in your protein powder? Allison discusses a recent report that examined contamination in this dietary supplement and discusses whether protein powders are a necessary addition to our diets.
---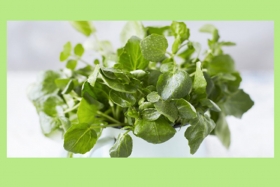 March 19, 2018 by Kat Villarino, Dietetic Intern
Dietetic Intern Kat Villarino covers why watercress is such a nutrient powerhouse and shares how you can incorporate more of it into your diet. Check out her infographic!
---