Recipes
South American Quinoa Salad Recipe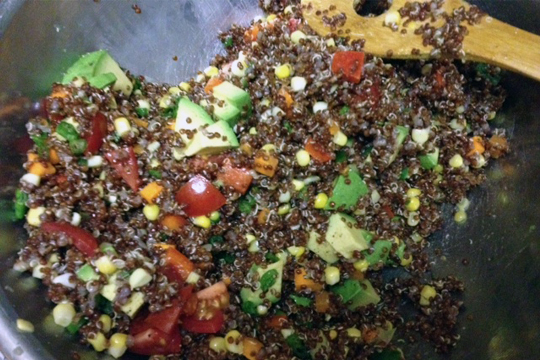 Photograph by Vi..Cult...
This delicious South American quinoa salad is full of chunky vegetables and is accompanied by a flavorful, heart-healthy vinaigrette.
Quinoa is a heart-healthy whole grain. It's high in fiber, antioxidants and flavonoids, contains heart-healthy fats, is a complex carbohydrate with a low glycemic index and is one of the few plant-based proteins that contains all 9 essential amino acids, making it a complete protein.
Makes 4 2 cup servings

1½ cups rinsed quinoa
2½ cups stock or water
1 tsp salt
¼ cup lime juice
3 tbsp red wine vinegar
2 tbsp toasted cumin
2 tbsp olive oil
½ tsp sugar
Dash of red pepper flake
2 tbsp cilantro
2 tbsp scallion
½ cup carrots
1 cup jicama
1 avocado
½ cup red bell pepper
½ cup corn
Directions

Place the quinoa in the water or stock with ½ tsp of the salt and bring to the boil, then lower to a simmer.
Cook for about 15 minutes and drain if needed. The quinoa should be slightly undercooked to better absorb the vinaigrette.
Whisk together the lime juice, red wine vinegar, toasted cumin, olive oil, sugar, red pepper flake and remainder of the salt to make the vinaigrette.
Combine the quinoa with the vegetables and toss with the vinaigrette.
Nutritional information per 11 oz serving:

Calories: 388
Protein: 10.5g
Carbohydrates: 54g
Fat: 17g
Saturated Fat: 2g
Fiber: 11g
Sodium: 600mg
---
April 20, 2018 by Allison Aaron, Sr. Culinary Nutritionist
Do you really know what's in your protein powder? Allison discusses a recent report that examined contamination in this dietary supplement and discusses whether protein powders are a necessary addition to our diets.
---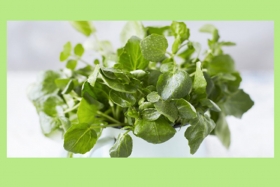 March 19, 2018 by Kat Villarino, Dietetic Intern
Dietetic Intern Kat Villarino covers why watercress is such a nutrient powerhouse and shares how you can incorporate more of it into your diet. Check out her infographic!
---