Recipes
Healthy Homemade Muesli Recipe
R.D. Abbie Gellman shares one of her favorite healthy breakfast recipes -- a nutritious and delicious muesli.
Delicious recipes don't have to be time-consuming. It's entirely possible to create a tasty and nourishing breakfast with next to no morning prep time with one of my breakfast favorites, muesli!
Essentially you take a bunch of uncooked rolled oats, chopped nuts, seeds and dried fruit, place it all in a storage container and put it on a shelf. Kind of like granola (minus the oil and toasting/roasting/baking!).
In the evening, simply place a scoop of muesli in a bowl with some yogurt and leave it in the refrigerator overnight. Some people prefer muesli with a thick Greek yogurt, others favor a yogurt thinned out with nut milk or just nut/soy milk and no yogurt at all.
When you get up in the morning and are groggily looking for something to eat, it'll be there waiting! Thanks, muesli!

Healthy Muesli Recipe
4-6 servings
Ingredients:

2 cups rolled oats
2/3 cup nuts (chopped) and seeds (raw, unsalted)
1/3 cup dried fruit, chopped (I typically use dried cranberries and apricots)
1/4 cup unsweetened coconut
Pinch salt
Plain yogurt, nut milk or soy milk
Maple syrup, agave or honey (optional)
Directions:

Combine the oats, nuts, seeds, dried fruit, coconut and salt in a large bowl. Transfer to a sealed container and store.
Each serving: spoon 1/2 cup of yogurt into a bowl. Thin with 1/4 cup nut milk and sweeten with a teaspoon of maple syrup, agave, or honey if desired. Stir in 1/2 cup of the Muesli and place in the refrigerator overnight.
Open refrigerator. Take out muesli. Garnish with chopped nuts or dried fruit (optional).
Do you have a favorite healthy breakfast recipe? Share it in the comments below!
---
April 20, 2018 by Allison Aaron, Sr. Culinary Nutritionist
Do you really know what's in your protein powder? Allison discusses a recent report that examined contamination in this dietary supplement and discusses whether protein powders are a necessary addition to our diets.
---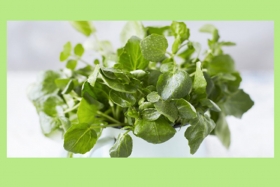 March 19, 2018 by Kat Villarino, Dietetic Intern
Dietetic Intern Kat Villarino covers why watercress is such a nutrient powerhouse and shares how you can incorporate more of it into your diet. Check out her infographic!
---