Recipes
Healthy Deviled Eggs Recipe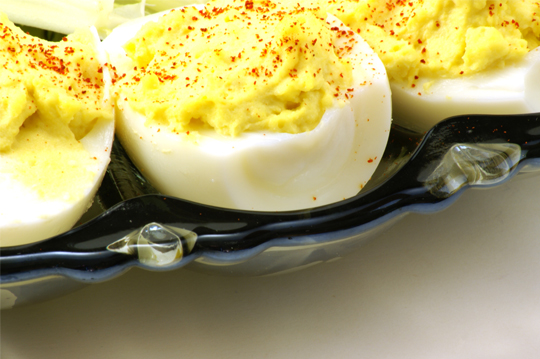 © Eperceptions | Dreamstime Stock Photos & Stock Free Images
This delicious healthy deviled eggs recipe is low in calories, saturated fat and sodium. They're great as an Easter appetizer or snack!
Looking for something to do with your leftover hard-boiled eggs? Here is a quick and healthy recipe for deviled eggs. They make the perfect protein-packed snack, or you can dress them up with a little garnish!
Makes 6 servings

6 hard-boiled eggs*
1 tbsp capers
1 tbsp minced celery
1 tbsp chopped chives
1 tbsp chopped parsley
1 tsp Dijon mustard
Dash of Tabasco
1 tsp mayonnaise
¼ cup fat-free Greek yogurt
½ tsp salt
¼ tsp black pepper
¼ tsp smoked paprika
12 small sprigs of dill
1 tbsp caviar (optional)
* recipe works best when eggs are still warm
Directions

Carefully slice eggs in half and remove the yolks.
Mix together yolks, capers, celery, chives, parsley, mustard, tabasco, mayo, Greek yogurt, salt and pepper.
Fill each halved egg with yolk mixture and then garnish with smoked paprika, a touch of caviar (optional) and small sprig of dill.
Nutritional information per serving:

Calories: 86
Protein: 7g
Carbohydrates: 1g
Fat: 6g
Saturated Fat: 2g
Sodium: 329mg
---
April 20, 2018 by Allison Aaron, Sr. Culinary Nutritionist
Do you really know what's in your protein powder? Allison discusses a recent report that examined contamination in this dietary supplement and discusses whether protein powders are a necessary addition to our diets.
---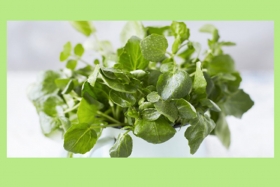 March 19, 2018 by Kat Villarino, Dietetic Intern
Dietetic Intern Kat Villarino covers why watercress is such a nutrient powerhouse and shares how you can incorporate more of it into your diet. Check out her infographic!
---