Recipes
Chicken Apple Sausage Recipe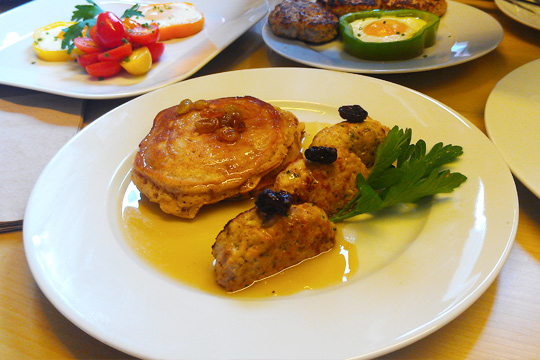 Senior Culinary Nutritionist Natalia Hancock shares her healthy and delicious recipe for Chicken Apple Sausage.
You might have noticed that poultry (chicken, turkey and even duck) sausages have been flooding the supermarkets. Many of us perceive sausage made out of poultry to be much healthier than sausage made from the traditional pork or beef, but many are still high in sodium, unhealthy preservatives such as nitrates, and fat. Poultry sausages can also be quite expensive. Here is a simple, inexpensive recipe for chicken apple sausage that is free of preservatives, low in fat and sodium. Super-quick and delicious, this recipe is perfect for a snowy Saturday morning!
Makes 16 2 oz servings

2 lbs lean ground chicken or turkey
½ cup grated apple
2 tbsp ground oats
2 tbsp apple cider
2 tbsp chopped chives
2 tbsp sage
1 large egg, beaten (for binding; optional)
1½ tsp salt
1 tsp cinnamon
½ tsp ground black pepper
¼ tsp ground nutmeg
Directions

Preheat the oven to 350 degrees.
In a medium bowl, combine the ground chicken with the apple, oats, cider, vinegar, chives, egg, salt and spices.
Form the mixture into 8 2 oz patties, about a ½" thick.
Spray a non-stick skillet with cooking spray. Over a medium-low heat, cook each patty in an oven-safe skillet for 2 minutes then flip.
Place the skillet in the oven for 10 minutes. Sausage should be 165 degrees and cooked through.
Nutritional information per 2 oz serving:

Calories: 96
Protein: 11g
Carbohydrates: 2g
Fat: 5g
Saturated Fat: 1g
Sodium: 260mg
---
April 20, 2018 by Allison Aaron, Sr. Culinary Nutritionist
Do you really know what's in your protein powder? Allison discusses a recent report that examined contamination in this dietary supplement and discusses whether protein powders are a necessary addition to our diets.
---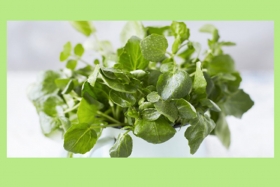 March 19, 2018 by Kat Villarino, Dietetic Intern
Dietetic Intern Kat Villarino covers why watercress is such a nutrient powerhouse and shares how you can incorporate more of it into your diet. Check out her infographic!
---