Nutrition 101
Chia Seeds: Everything You Need To Know + 3 Recipes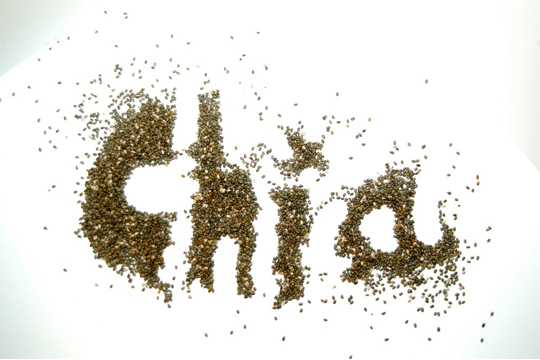 Photo: Health Guage
Culinary Nutritionist Natalia Hancock shares three healthy chia seed recipes.
Unless you've been hiding under a rock, you must have heard about chia seeds and how good they are for you. So what are chia seeds? Chia is the edible seed that comes from Salvia Hispanic, a desert plant that is found largely in Southern Mexico, and yes, these are the same chia seeds that are used in the iconic Chia Pet Planters! Chia seeds were an important part of ancient Aztec and Mayan diets, known for their ability to nourish and sustain.
They are a rich source of omega-3 fatty acids (which are lacking in the American diet), even more so than flax seeds. Chia seeds are also very high in antioxidants (3x more than blueberries), which prevents them from going rancid and ensures a longer shelf life. They also contain various other beneficial nutrients such as calcium, phosphorus, magnesium, manganese, copper, iron, niacin and zinc, and importantly are very high in fiber with 7g per 25grams of chia seeds.
Now that you know how good they are for you, here are 3 easy, delicious recipes that show how you can incorporate them into your diet.
Chia Pudding Recipe
Serves 2
1 ½ cups fat-free plain Greek yogurt
2 tbsp chia seeds
1 cup vanilla soy milk
2 tbsp dried cherries (any other dried fruit will work)
¼ tsp cinnamon (optional)
Directions

Mix the yogurt, chia seeds, soy milk, dried cherries and cinnamon thoroughly. Cover and refrigerate for at least 1 hour.
Nutritional information per 1 ⅓ cup serving:

Calories: 109
Fat: 2g
Saturated Fat: 0g
Sodium: 50mg
Carbohydrates: 11g
Fiber: 3g
Protein: 10g
Pumpkin Banana Bread with Chia Recipe
Serves 12
1 medium banana, mashed
2 cups plain pumpkin purée or a 15oz can
⅓ cup canola oil
2 eggs, beaten
½ cup honey
1 tsp vanilla extract
2 cups white whole wheat flour
1 ½ tsp baking powder
½ tsp salt
2 tbsp Chia Seeds
½ tsp ginger, ground
½ tsp nutmeg, ground
1 tsp cinnamon, ground
½ cup walnuts, chopped (optional)
Directions

Pre-heat oven to 350 degrees. Whisk together flour, baking powder, chia seeds, salt and spices in a medium bowl and set aside.
Combine banana, pumpkin purée, oil, eggs, honey and vanilla in a large bowl.
Add dry ingredients to wet ingredients and combine until just mixed, then fold in nuts.
Place in an 8 ½ " by 4 ½ " loaf pan that has been coated with cooking spray. Bake for 50 minutes to 1 hour, or until a toothpick inserted in the center comes out clean.
Nutritional information per serving:

Calories: 200
Fat: 10g
Saturated Fat: 1g
Na: 170mg
Carbohydrates: 23g
Fiber: 5g
Protein: 5g
Berry Smoothie Recipe
Serves 1
¾ cup mixed berries, frozen (raspberries, strawberries, blueberries, blackberries)
1 tbsp chia seeds
1 tbsp whey or veggie protein
1 slice lemon, thin and with peel
10oz unsweetened vanilla soy milk
Directions

Place all ingredients in a blender and puree until smooth. Serve immediately.
Nutritional information per serving:

Calories: 293
Fat: 10g
Saturated Fat: 0.8g
Sodium: 60mg
Carbs: 28g
Fiber: 13g
Protein: 23g
Check out some of our other healthy and delicious recipes here!
---
April 20, 2018 by Allison Aaron, Sr. Culinary Nutritionist
Do you really know what's in your protein powder? Allison discusses a recent report that examined contamination in this dietary supplement and discusses whether protein powders are a necessary addition to our diets.
---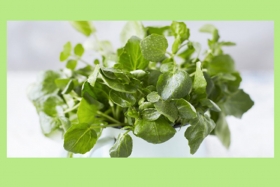 March 19, 2018 by Kat Villarino, Dietetic Intern
Dietetic Intern Kat Villarino covers why watercress is such a nutrient powerhouse and shares how you can incorporate more of it into your diet. Check out her infographic!
---