Recipes
Barley Bibimbap Recipe
A barley-based, healthy twist on a classic Korean bibimbap recipe.
Bibimbap is a traditional Korean dish which is directly translates to "mixed rice" in English. It's usually made with white rice and topped with different vegetables and red chili paste. In our nutritious and delicious take on this Korean staple, we substituted white rice with barley to increase the fiber content, which is thought to reduce the risk of diverticulosis and minimize symptoms for those who already have diverticulitis.
Makes 3 servings

Bibimbap:
2 cups cooked barley (cooked in water)
1 cup fresh soy beansprouts, blanched
2 cups fresh baby spinach, blanched
1/3 medium size carrot, sliced julienned and blanched
5 oz firm tofu
8 button mushrooms, cleaned and thinly sliced
½ tsp olive oil
1 cup mixed greens
¾ medium avocado, peeled and sliced
1 medium red pepper, cleaned and thinly sliced
½ oz dried seaweed (nori), thinly sliced using scissors
Dressing:
1 tsp sesame oil
1 tbsp soy sauce
1 tsp ginger, grated
1 tsp garlic, grated
Juice of 1 lemon
1 tbsp Sriracha sauce
1 green onion, cleaned and sliced thin
1 tbsp toasted sesame seeds
Directions

In a medium saucepot over medium-high heat, add cleaned soy beansprouts and cook for 2 minutes. Drain completely. Reserve the hot water and repeat the process with julienned carrots.
Add ½ tsp of olive oil to a 9" non-stick pan and heat over medium-high heat. Add sliced mushrooms and sauté for 2 minutes and set it aside. Using the same pan, cook sliced tofu for 1-2 minutes on each side until golden brown.
Separately, combine all ingredients for dressing and mix well.
In a large bowl, place 1 cup of cooked barley in center of a bowl. Place 1/3 of prepared soy beansprouts, spinach, carrots, tofu, mushrooms, mixed greens, avocado and red pepper on top of the barley, working clockwise.
Sprinkle sliced nori in the center and serve with dressing. Mix well before enjoying.
Nutritional information per serving:

Calories: 370
Protein: 18g
Carbohydrate: 47g
Fiber: 12g
Fat: 15g
Saturated Fat: 2g
Sodium: 500mg
Potassium: 1030mg
Vitamin A: 100% DV
Vitamin C: 100% DV

3 servings fruit and & vegetables
1 serving of whole grains
---
April 20, 2018 by Allison Aaron, Sr. Culinary Nutritionist
Do you really know what's in your protein powder? Allison discusses a recent report that examined contamination in this dietary supplement and discusses whether protein powders are a necessary addition to our diets.
---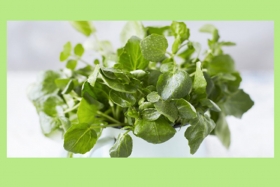 March 19, 2018 by Kat Villarino, Dietetic Intern
Dietetic Intern Kat Villarino covers why watercress is such a nutrient powerhouse and shares how you can incorporate more of it into your diet. Check out her infographic!
---