Nutrition 101
Avoid Nutrient Deficiencies When Planning a Vegetarian Diet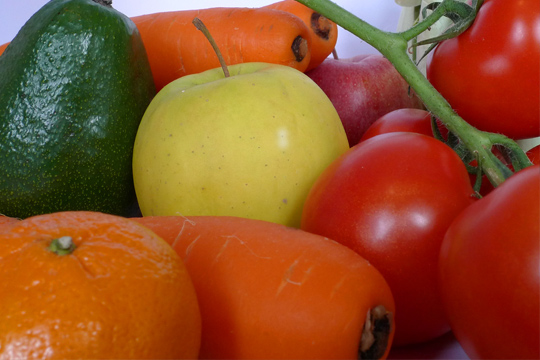 Culinary Nutritionist Natalia Hancock advises on how to get all the nutrients that you need.
A vegetarian diet, in its most basic form, is a plant-based diet. Various types of vegetarian diets exist: some only omit animal flesh but allow for poultry and/or seafood, while other stricter forms exclude consumption of animals and animal products altogether (e.g., eggs, dairy products, gelatin, honey, etc.).
Although a wide array of health benefits associated with eating a vegetarian diet exists, nutritional concerns may arise from the exclusion of animal products and their nutrients, which can result in several deficiencies. However, a well-planned vegetarian diet can make up for this by finding these nutrients in plant foods. If you follow or plan to follow a vegetarian diet, do keep an eye out for the following key nutrients:
Protein
Due to the exclusion of meats, a vegetarian diet is lower in protein but can easily meet the recommended daily requirements. Dairy and eggs provide a complete protein, containing the nine essential amino acids (the building blocks of proteins that our bodies can't make on their own). Individuals following a stricter form of vegetarianism can find significant sources of all essential amino acids in quinoa, buckwheat, soy, chia seed and hempseed.
In addition to the essential amino acids, plant-based sources of protein can be combined to arrive at a complete protein: for example, a combination of brown rice and beans contains the complete set of essential amino acids. A varied intake of these complementary protein sources throughout the day can provide an adequate amount of protein.
Iron
Vegetarians who do not consume enough iron are at risk for iron deficiency anemia due to the decreased absorption of iron from plant sources. Iron can be found in soybeans, lentils, spinach, quinoa, chickpeas, oats, tomatoes and tofu. Combining plant-based iron sources with a source of vitamin C (such as citrus fruit or red peppers) also increases iron absorption.
Zinc
Zinc plays a myriad of roles in biological functions. The primary cause of zinc deficiency is poor dietary intake. Sources of plant-based dietary zinc include bread, legumes, milk, soybeans, tempeh, tofu, nuts and seeds.
Vitamin B12
Vitamin B12 is of special concern in a vegetarian diet. A deficiency can cause megaloblastic anemia and other physiological concerns. B12 can be found in animal products (eggs, cheese and yogurt), but is not naturally found in plant products. It can be found in algae, such as spirulina, and for stricter vegetarians, B12 can be obtained by consuming fortified foods (e.g., breakfast cereals) or as a supplement. Again, be careful about the source of the B12.
Calcium
Calcium is integral to maintaining bone health. Moreover, calcium plays an important biochemical role in all cells. Calcium can be found in dairy products, fortified orange juice and plant milks (soy, rice, almond, etc.), tofu, almonds, sesame (and tahini), dandelion greens and fish bones.
And finally, green leafy vegetables such as collard greens, spinach and rhubarb contain appreciable amounts of calcium, but also contain a chemical called oxalic acid that reduces their absorption. In order for calcium to be properly absorbed, it's important to maintain vitamin D levels!
Omega-3 fatty acids
Aside from their well-documented health benefits, omega-3 fatty acids are essential to normal growth and health. While the most popular source of omega-3 fatty acids in the Western diet is fish, they can also be found in flax seeds, chia seeds, walnuts, flaxseed oil, soybean and canola oil. Hens fed a diet of greens (e.g. seaweed, green algae) or flax and canola seeds produce eggs with a high omega-3 fatty acid content. An increasing number of foods are being fortified with omega-3 fatty acids, such as orange juice. The sources for these omega-3 fatty acids could be fish-based, so be sure to read the label of the food in question if you happen to be a strict vegetarian!
Iodine
Iodine consumption is essential to the creation and storage of the thyroid hormones thyroxine and triiodothyronine. Sources of iodine include iodized salt, dairy products and dried seaweed and kelp. Also, plants grown in iodine-rich soil will contain appreciable amounts of iodine.
There are many benefits of a following a vegetarian diet, so if you do decide to follow one, make sure you avoid deficiencies and get all the nutrients that you need!
For more nutrition facts and advice, follow us on Twitter and read our other Nutrition 101 blog posts.
---
April 20, 2018 by Allison Aaron, Sr. Culinary Nutritionist
Do you really know what's in your protein powder? Allison discusses a recent report that examined contamination in this dietary supplement and discusses whether protein powders are a necessary addition to our diets.
---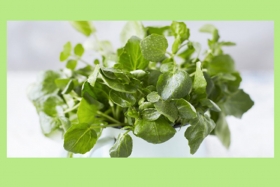 March 19, 2018 by Kat Villarino, Dietetic Intern
Dietetic Intern Kat Villarino covers why watercress is such a nutrient powerhouse and shares how you can incorporate more of it into your diet. Check out her infographic!
---